http://aolhometown.planetout.com/pno/entertainment/interviews/beltran.html



Los Beltran's Gay Pair
by Jim Provenzano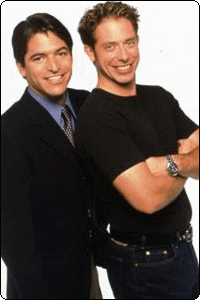 Bi and straight actors. Biracial
couple. Gay neighbors. Got it?
Apparently millions of viewers do,
and have helped make the latest
Telemundo comedy a hit.
Telemundo, owned by Sony
Corporation and Liberty Media, is
one of two major Spanish television
networks in the U.S. The
Miami-based network reaches 85
percent of the American Latino
community, an estimated 31
million viewers.
"It's been incredible," said Gabriel
Romero in an interview with
PlanetOut in Los Angeles about his
new international stardom as
Fernandito, the first recurring gay
Latino character on a
Spanish-language TV show, Los
Beltran.
"I was getting my car washed, and
the guys who were cleaning it were
like, 'Is that him?' I said yes, then
asked them what they thought of
the show. They said, 'It's fabulous.
It's really funny. I have an uncle who's gay.' The reaction has been very
positive."
How romantic will the couple get, since they've barely touched on the
show?
"I don't know," said James Charles Leary, who plays Kevin, Fernandito's
Anglo-American lover." We're constantly pushing the envelope. I'm up for
anything they'll throw at us. At the end of the season, we actually got to
touch each other more. Next season I'll put my arm around him!"
Do they consider themselves role models? Romero offered an
enthusiastic, "Yes! It's an honor to have the opportunity to portray
someone like this. I have the opportunity to open the door for the kids,
the younger generation, as well as older men who haven't had an
opportunity to talk about it. Maybe they have this inclination. If I can help
them out, I did my job."
But Romero doesn't take his role too seriously. "If you don't laugh at life,
life will laugh at you."
Although he says his parents had problems with his sexuality at first, now
Romero is happy his Mexican family can see him on TV. "My father
sometimes thinks maybe there's too much publicity. Still, I thank them
for all the love they've given me."
With the Latino culture steeped in Catholic tradition, how does Romero
feel about the Pope's failure to include homosexuality on his list of sins
that are no longer "offenses against humanity"?
"That's a very loaded question. Am I going to be excommunicated?
Seriously, anybody who has problems with other people's sexual
inclination is afraid of their own. The proliferation of homosexuality in the
Catholic church is big. They're afraid of facing that, so they think, 'Let's
deny it.' Now they say , 'Well, we don't condemn it, but we don't accept it.'
But it's still the same. I think they're afraid all their priests are going to
come out."
With gay rights always a sensitive subject, the two actors are happy to
portray gay men in a comedy, while at the same time humanely bringing
up sensitive issues.
Said Romero, "True, honest love can happen between two men or two
women, or a man and a woman." And true comedy as well.