Eminem = Enemy?
Rapper's lyrics stir protest
by Jim Provenzano

Once again a music act, hailed as the
next rap phenomenon, is being
widely criticized for hate-filled lyrics.
Eminem, the white rap singer with a
mere two CDs under his belt, has
been nominated for four Grammy
Awards.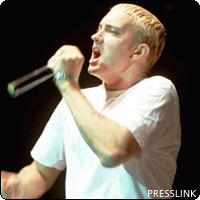 So who is Eminem? His real name,
Marshall Mathers, is one source of
the moniker, but his explanation is
more apt: "I thought it up when I was
taking a shit." Among the
biographical details touted by his
promoters is the fact that he tried to
kill himself by downing Tylenol and
that, as a welfare father who could
not afford diapers for his child, he
forced his wife to become a stripper
and wrote a song about killing her.
Mathers uses an assault that left him
in a coma for four days to justify his
advocacy of violent revenge. His lyrics
hint at mental illness, especially in
the creation of Slim Shady, a persona
that Mathers calls his "other side."
Eminem is managed by Paul
Rosenberg, who runs Shady Goliath
Records in New York. Although
Rosenberg refused to talk with
PlanetOut, one employee, in
response to questions about the
content of Eminem's lyrics, said, "It's not about what he's talking about.
Besides, I don't listen to what he's saying specifically."
Mathers's publicist, Brian Dennihy, spoke to PlanetOut two days after the
rapper's June 4 arrest at a Detroit bar for his alleged involvement in a
brawl involving guns.
Dennihy was curt about the potential effect Mathers's music has on the
GLBT community. "His lyrics are his lyrics and they speak for themselves,"
he told PlanetOut. "I don't think there's a response necessary."
But he did relent to a few more questions, particularly about the song "Kill
You." "This is just a part of his music. There are other parts where he
says 'I like gay men.' These are different characters."
When asked about other music that's been considered to advocate
violence, and whether he believes music can influence behavior, Dennihy
said, "My opinion is not relevant. That this upsets some people is just
part of it. It's something that happens."
Dennihy said Mathers no longer needs to address the issues of hate
lyrics, that a half-hour television interview was a sufficient response.
"Basically, the album is out there. He's addressed the issue in his
interview with MTV."
As to Mathers' arrest, "Pending legal matters, we have no comment."
The Backlash
But critics have not been slow to comment. Longtime gay activist and
music industry executive Jim Fouratt published a scathing editorial in
Billboard, calling Eminem "the most homophobic and misogynist of all
the current rap acts. His lyrics are vile and full of frightening calls to
violence against women and gays ... or as he puts it 'faggots.'"
Interscope/Geffen/A&M Records also produces music groups Nine Inch
Nails, Enrique Iglesias, No Doubt, and Beck. Interscope's president,
Jimmy Iovine, controlled press coverage of Eminem's CD, Fouratt said.
"Any journalist wishing to hear the record in advance had to sit in a room
and listen while the record was being played." Fouratt sees this as an
effort to prevent the press from really hearing the lyrics.
Fouratt also cited music industry executives' "morally corrupt intention to
make money without regard to the effect of the music on Eminem's core
audience -- white males who feel that everything has been taken away
from them."
Such music "propels their anger at women, gays, each other, and the
people perceived to have power," he said. "Eminem fits right into the
stupid, hateful rhetoric of Limp Bizkit (another Interscope act), who chose
to rip off Rage Against the Machine and substitute adolescent male angst
for a potent political message."
Mentioning the events of Woodstock '99, where several women were
raped in the mosh pit while Limp Bizkit played, Fouratt said that
"Interscope's president Jimmy Iovine, Universal Music's CEO Doug Morris,
and Seagram's head, Edgar Bronfman, Jr., need to be held accountable
for their actions."
Although Fouratt was interviewed by MTV News's Kurt Loder, the network
trimmed the interview to a few sound bites and heavily promoted
Eminem's CD throughout its release weekend. While MTV's journalistic
integrity may be clouded by sales bias, a further conflict arises with
Interscope records, owned by Geffen Records.
David Geffen, one of the world's richest openly gay men, has given
generously to gay and AIDS causes, but critics say he is so removed from
his company that he doesn't even know what he's producing. Other
Geffen acts have been criticized, including Guns n' Roses, whose "faggots
and immigrants" lyrics angered many.
Eminem's supporters say his lyrics are just farce or self-parody, as in the
song "Role Model": "I got genital warts and it burns when I pee. Don't
you wanna grow up to be just like me?"
While Newsweek calls his "sociopathic" take on his "Dickensian
upbringing" a satire, the source of Mathers's homophobia is admittedly
nonfictional.
"If I said in one of my songs that my English teacher wanted to have sex
with me in junior high, all I'm saying is that I'm not gay," Mathers is
quoted as saying, discounting an event which in other accounts he has
said really happened. "People confuse the lyrics for me speaking my
mind. I don't agree with that lifestyle, but if that lifestyle is for you, then
it's your business."
This rationalization was not enough to satisfy GLAAD, the Gay & Lesbian
Alliance Against Defamation. "Eminem's lyrics are soaked with violence
and full of negative comments about many groups, including lesbians
and gay men," the organization said in a press statement.
"While Eminem certainly has the freedom of speech to rap whatever he
wants, it is irresponsible for Interscope Records to produce such
defamatory material that encourages violence and hatred. This is
especially negligent when considering that the market for this music has
been shown to be adolescent males, the very group that statistically
commits the most hate crimes."
<SPAN CLASS=H3><B>Also on PlanetOut</B></SPAN><BR>
<SPAN CLASS=UL>
<LI><A HREF="/partners/advocate/?/html/news/010501/010501ent02.html" target=_top>GLAAD, predictably, freaks out over Eminem's Grammy nominations</A>
<LI><A HREF="/entertainment/starstruck/2000/08/eminem.html">Boy George, Elton John feud over Eminem</A>
<LI><A HREF="/news/article.html?2001/01/03/5">Gay-Friendly Grammy Nominations</A>
<LI><A HREF="/entertainment/music/features/2000/05/homeyphobia.html">Homey Phobia</A>
<LI><A HREF="/entertainment/music/features/2000/05/hatehop.html">Hate Hop: gay-bustin' rhymes</A>
<LI><A HREF="/entertainment/music/features/2000/05/queerhop.html">Queer-friendly hiphop</A>
<LI><A HREF="/entertainment/music/">More queer music</A>
<BR>
</SPAN>