Campfire Video, where the guys may get distracted by Hollywood male appreciation, but there is a content sporty contingent who post pics there.

Until more Olympians come out, enjoy these out guys, Greg Louganis, Ian Roberts and Bob Paris.

Of course, if you really, really gotta see the jocks from a purely sexual angle, there's always a place for you. You Perv.
Sat. Aug. 14
Reuters is calling it a roller coaster of a Games. But like the Greek alphabet, which shifted the order of global participants, the dozens of jocks caught in doping scandals may have leveled the playing field, giving smaller countries an edge, while American and other jocks peter out on the blocks. Better living through chemistry doesn't apply at the home of the original.
What's an Olympics fan to do? So many gorgeous jocks, so little time, no cable, and we're on the other side of thw world. Might as well get bloggy, and see what's up to share online.
Hot Olympians.com offers a selective yet tasteful array of daily darlings.
Yahoo Sports photo galleries offer a feast of great pics.
Sun. Aug. 15
Ooh, bronze for the relay men's swim team. Livin' up to the hype, that Bawmer boy.
Most indulgent US-biased moment of the day: NBC obsessing over a US volleyball player getting sand in his eye - for five minutes! It's played on the sand. Wear goggles or quit complaining. Yeesh.
As said by a friend, when Japan's Kosuke Kitajima won gold in the 100m breaststroke over world record holder Brendan Hansen of the US (after Hansen got his on-air "it's my turn," mini-bio:
"I will happily pull for American's when they are in the mix. But I am bored by the way NBC portrays the Olympics as cute American kids who just show up and effortlessly dominate the rest of the world."
Bob Costas redeemed himself (temporarily) by castigating the men's basketball team for their lousy performance, then identifying the real Dream Team, the Iraq men's soccer team, who've overcome torture under the Hussein dictatorship, to defeat Portugal. Amazing.
Mon. Aug. 16
HELLAS Good! Congrats to Nikolaos Siranidis and Thomas Bimis!
Men's Synchronized Diving gives Greece its first gold medal. Woohoo!
Even with Dumais bro's in stereo, the Greeks are very victorious in synch diving after the US and China messed up. Hey, wouldn't you, after a jerk in a tutu jumped into the pool?
The hunky little Greeks were so thrilled to win, they dragged some teammates into the pool.
Of course, the award for most muscular diver goes to the U.K.'s Tony Ally. Hooboy!
Full list of divers here. Among the most gorgeous of contenders: Cuba's Jorge Betancourt! More about Cuban diving here.
Men's gymnastics (will any of yesteryear's glory return?). Pretty good showing from the US (finally), and the gold medal Japanese team. Nice for them to see victory after a few decades. But the best cutey is Marian Dragulescu of Romania. One less step on the landing, and they would have medaled.

Here's a page with a clip of Marian's "perfect" vault from earlier this year.
A round up gymnastics talent, and lots more, at The Sports Network, which loads a lot faster than NBC's site.

Interesting blog with all the news about the Greek Olympic team ad the doping scandal of Kostas Kenteris and Katerina Thanou.
Thorpedo beat Mr. Phelps in the 200-meter. Don't worry, Mikey. You're still going strong.
Track: Considering the number of US athletes who've been banned for substance abuse, we'll all be hearing a lot of anthems from smaller countries. Hopefully, Dan O'Brien is clean and doing well. He's adorable.
Corporate site of the day for good pics and coverage: USA Today.
Creepy discovery du jour: Jamacian singer Buju Banton, whose hit songs advocates the murder of gays, performed at a party thrown by the Jamaican team. The official Olympic concert was sponsored by shoes manufacturer Puma. Let the Boycotts continue!
Tues. Aug. 17

Gusto d'Olio: Italy's Aldo Montano, victorious in Sabre, takes sports fetishization to a golden realm.
Speaking of rituals, why are Americans the only ones to remove their wreaths when our national anthem is played? Nobody else puts their hands on their heart, nor removes their wreaths. How many people remove their hats during a baseball game's playing of it? A wreath isn't a hat. It's more of a decoration. Does Miss America remove her tiara during the national anthem? No. Anyway...

Michael Phelps now has three gold and two bronze medals. Living up to the hype. Guess he'll get his Wheaties box cover. The men's swimming relay was quite exciting. Thorpedo must be disappointed, thirteen one-hundredths of a second disappointed. Congrats to Italy for getting the bronze.
Women's gymnastics, floor competition: why does Romania always have better music than anyone else, particularly the US? Ethno-trance; great stuff.
Shot Put's being held in the original Olympic stadium. Classically classy.
Corporate site du jour: ESPN.
Volleyball; nice. Kayaking; interesting, but it looks like a ride from a water park. Swimming? Some good relays. All my bets are on Australia, where kids swim almost from birth. Greece was happy to place 8th, letting them compete in the finals.
Ooh, Michael Phelps finally got a gold medal. Now, might the US media focus a tad more on the other 10,999 athletes? Not a chance.
Gratuitously gorgeous water polo pic. Hugs all around!


Kayakers Sam Oud and Floris Braat, from the artsy nude gallery du jour: the Netherlands Original Olympics, where photographer Ewoud Broeksma shows an array of Dutch athletes in the altogether.
Wed. Aug. 18
Oh, Andy!

From MSNBC: Andy Roddick hit one last errant shot into the net and hung his head, his medal hopes over. In back-to-back stunners at the Olympic tennis tournament, Roddick was upset by No. 16 Fernando Gonzalez of Chile 6-4, 6-4, and defending gold medalist Venus Williams lost to Mary Pierce of France 6-4, 6-4. Both were third-round matches.
�I�m gutted right now,� said Roddick, broken once in each set by Gonzalez and distracted by a ruling that prompted a running dialogue with the chair umpire. �It�s not every day we get to play this,� he added. �You can�t say, �Next year�.�
Andy, we still love you. But bext time, drink more milk! And get some rest!
***
Proof again why men's water polo is best seen below the water line. Ouch! Here's another pic and article from The Washington Post, proving that water polo's full of yanks!
***
Congrats to the men's team,,/a> and Paul Hamm as well, for some great gymnastics, silver team medals and gold for Hamm, although I still don't understand how he won the gold in all-Around, since he fell down in the vault.
Some still think Raj Bhavsar should have been on the team, not whiny multiple-injured Blaine Wilson. His flubs may have made the difference between silver and gold.

Yang Wei and the Chinese team have to get the award for best jerseys. The red monkey on a yellow background gets points for sartorial style.
And I think most would agree that Marian Dragulescu is one of the most beautiful men at the Olympics, if not in the world. Where's the beef? Why, in the form of Jason Gatson, of course.
***
It's agreed. The men's basketball team is the most reviled group of athletes in Athens, and not only by other basketball players.
"These Dream Team imposters are jeered in Athens bars by Americans, booed in the arena by Greeks (and) despised back home by people fed up watching their selfish ways," says MSNBC columnist Steve Wilstein.
Athletes comfirm this. I'm on an email list sent daily by U.S. Judo competitor Rhadi Ferguson, who was astonished by the standoffish behavior of Alan Iverson and others at Opening Ceremonies.
"Some of the members of the Men's USA Basketball team refused to take pictures with the other Olympians! Their behavior was not received well by a large contigency of the US athletes. I was really surprised that they would act in such a way. We are all the best at what it is we do. We all practice hard and long, sweat and bleed, and we all are here to compete for the USA. That part of the evening really left a bad taste in a lot of the athletes mouths."
Did you know that the basketball team has their own yacht where they're staying, far from the Olympic Village? Maybe the real athletes should be relieved.
Ferguson added that world famous athletes like Andy Roddick were enthusiastic, friendly, and happily signing autographs for fellow athletes. "What a cool dude," says Ferguson of Roddick. "He is really down to earth and just a smooth cat. It was a pleasure to talk with him and grab a couple of laughs. It was real refreshing to rap with him after the behavior of the basketball players the other night. "
****
Hunk Alerts:
Fencing: Quite the classy sport, and amazing to watch. check out Jason Rogers, who looks like he fell out of a Merchant-Ivory film. Quelle romantique!
Judo: What would you do to get a hug from stunning Mark Huizinga? Brush up on your Dutch, or translate your web page whilst viewing his site. "Ik heb verloren en gewonnen," saith he, after winning bronze. Here's a tasteful nude of Mr. Huizinga.
Here's hoping the upcoming Track and Field coverage shows competitors from more than just the waist up!
Thu. Aug. 19

Another gorgeous Greek (in judo) looks great in wreathware. Check out Reuters' great judo coverage.
Hugs and warm fuzzies between Aquil Abdullah and Henry Nuzum of the Men's Double Sculls team.
Have I mentioned that I think Marion Dragulescu is the most gorgeous man in the world? I did? Okay. Just checking.
Aaron Piersol has his finger on a swimming world record, and a finger in his mouth. Overshadowed by the Phelps-mania, he's more mature, and equally accomplished (and more handsome to many).
Interesting "twisted" controversy, in Aaron Piersol's words, about his win/disqualification/win in backstroke. A judge thought he spent too long on his stomach in the last flip turn. But even Peirsol's friend and competitor, Markus Rogan, who's competing for Austria (but from the U.S.), was on his side, even though a disqualification would have meant gold for him.


Peirsol recovered well from the controversy. The same article references Japan's Kosuke Kitajima and his questionable dolphin kick. Piersol also got an Olympic record, and Rogan got silver.
Speaking of looks, for fans of the women, Beach Volleyball is proving to be the Maxim reader's wet, if not sandy, dream. Some of the women Olympians have posed nude (or is it semi-nude? Sorry, Playboy's not among my reading list), much to the pleasure of straight men, but to the annoyance of feminists.
Why do female volleyball players compete in tiny bikinis, while the men don baggy shorts but are at least often shirtless.
More important, when are more men going to pose nude? You'd think Playgirl might balance out the skin coverage, but they seem to prefer gay porn studs posing as straight.
We'll leave it to the Europeans and Dutch to fulfill that desire, as a newspaper clipping with Alan Villafuerte shows. Sproing!

I prefer team indoor volleyball. Something about the squeak of sneakers on a gym floor. Tonight's (er, yesterday's) men's match between USA and Russia was just great late night TV. So many tall handsome men, and they hug after every goal. Plus the announcers had non-annoying voices, unlike other sports like swimming (note to Rowdy Gaines: you have a microphone, It works.)
Having watched and photographed volleyball matches at the past two Gay Games, I've really come to enjoy the sport. NBC's overhead camera at Athens offers an angle I could never catch.
* * *
It's more than obvious that the mainstream media is thrilled, if not relieved, to have Jenny Finch in Fast Pitch Softball. At over six-feet tall, blond and heterosexually married, they seem to be sighing in relief to have a poster girl who fulfills their need to ignore the norm, that women softball players are much more tough, not as Vogue-friendly, and possibly lesbians. Oh, come on, you know it's not a stereotype. Our Sapphic sisters excel in the sport, and many others.
* * *
Politics rears its topical if not ugly head in soccer. Grant Wahl of Sports Illustrated reports on the Iraq Men Soccer Team and their reaction to being exploited in a Bush campaign ad.
"Iraq as a team does not want Mr. Bush to use us for the presidential campaign," Sadir told SI.com through a translator. "He can find another way to advertise himself."
Many of the players expressed outrage over the Bush use of them, and they want the U.S. out of their country. Ironically, they have no home field in Iraq, because the US Military is occupying it. They have to practice in Jordan.
Ahmed Manajid, who played as a midfielder on Wednesday, was more direct about Bush. "How will he meet his god having slaughtered so many men and women? He has committed so many crimes."
* * *
In other news that travels from Athens to the San Francisco Bay Area, Greek sprinters Kostas Kenteris and Katerina Thanou withdrew from the Athens Games. Missed drug tests, a motorcycle accident, and a mob of reporters led the news that they would have failed their drug tests. Kenteris was allegedly a client of BalCo, the Burlingame company involved in the athlete doping scandal, which has been making headlines for months.
Kenteris was supposed to light the torch (now nicknamed The Big Fattie by some) when he disappeared on Opening Day of the 28th Olympics.
At least they're not consuming one of the ancient Games' favored supplements: sheep testicles.
Fri. Aug. 20
Not only is the Iraq men's soccer team peeved about being exploited in Bush campaign ads. The United States Olympic Committee has asked the Bush campaign to stop using the Olympic name in commercials. Federal law grants the U.S.O.C. exclusive rights to the name.
The campaign recently began running an ad that shows a swimmer, with flags of Afghanistan and Iraq. An announcer says: �Freedom is spreading throughout the world like a sunrise. And this Olympics, there will be two more free nations and two fewer terrorist regimes.'"
�We�re awaiting a reply,� Darryl Seibel, a U.S.O.C. spokesman, said in a New York Times article.
Don't hold your breath, Mr. Seibel. Bushco is busy stirring up fraud with their Swiftboat lies, which have been proven to be financially tied to Bush and his henchman, Karl Rove.
* * *
Michael Phelps isn't going for his last swimming event! Having matched Mark Spitz's medal record (pretty much), Phelps is resting on his laurels, apparently. Hugs to Michael! His mom must be thrilled. Did you see her? She looks like Linda Richman! "My Mikey swims like buttah!"

Inverted rack of beef? Just Lenny Krazelberg.

This is where I'm supposed to fawn all over Gary Hall, Jr., and his 400-meter gold. Sorry, everybody else is doing it. He only won by a hundredth of a second over Duje Draganja of Croatia, who's cuter, and less arrogant. Duje trains at Cal Berkeley, so I'm still essentially rooting for a home boy.

* * *
Okay, finally, after uh, Trampoline (Hey, I'm sure it's fun, but really!) - Track & Field, the most authentically classic array of Olympic events.
Hottie of the night: Jeremy Wariner.


A disciple of Michael Johnson, who also ran for Baylor University, Wariner has style, and rocked at the Sacramento Trials. Lean, mean and a great running machine, he's already got his fashion trademarks: Bono-style sunglasses, post earrings on each side, a bit of necklace bling, and an assured pace (Why'd ya shave the goatee, stud?). At only 20 years old, he'll be interesting to watch.
* * *
Sat. Aug. 21

Son of a Zeus:
Greece's Pyrros Dimas pumped his way to victory in weightlifting - in bronze, not a fourth gold. But his countrymen love him anyway, cheering like crazy.
Khadjimourad Akkaev of Russia's rather cute, too. * * *
What's almost as sexy as a Greek? How about a baseball team full of Greek-Americans? The story of their US-filled Greek baseball team is full of pathos (their coach died only a few months ago), and finally a victory. They beat Italy 12-7 in a showdown between the two weakest teams in the eight-nation tournament. Hey, weak in playing, but that must have been the most hunk-filled baseball game yet. And Italy's uniforms were fabulous.

Greece shortstop Clayton Bellinger

Taking a break from the male-centered worship: aren't the women of Track & Field amazing? Pole vaulter Stacy Dragila returned after being the first woman to get a gold in that event in 2000, but couldn't get it together. This was after a Russian pole vaulter broke her leg in an attempt! Svetlana Feofanova of Russia, a former dancer, placed first in the prelims.
Gail Devers claims God helps her. I'd say the Olympic gods are also smiling. And Lauryn Williams looks great in 100-meter dash. Her father had to get dialysis treatment for his leukemia, and got to watch her compete today.
Pakistan has only one female competitor. Saudi Arabia and Qatar are among those with none. Guess they won't be sending any women wrestlers for a while. It's great to see women getting a chance there. In years past, I've wrestled women at rec. league practices, and they can be just as tough.
Among the men in track, Justin Gatlin may give Maurice Green a run for his gold.
What am I doing leading you to a Men's Magazine called Xposed? Well, it's got lots of great Olympics articles and pics, that's why, and not just of bikini-clad babes. (Ironically, I found it whilst Googling for Gay Games info.)
* * *
Lithuania defeats the US in basketball 94-90! Oh my. An underdog fan's dream.


Sarunas Jasikevicius, b-ball hunk du jour!
* * *
I knew it! Paul Hamm didn't really win the gold men's all-around in Gymnastics. Wonder how the Korean silver medalist Yang Tae-young feels now? Despite proving a judge's errors, and that judge's suspension, the medals won't be changed. A CNN poll shows the majority of people think Hamm did not win.
In more cheerful news, two cyclists (from England and Australia) share a fraternal hug on wheels.

Men's Trampoline: not the most respected of sports, but certainly fun to watch.
Finger-Licking Good: Someone got creative with the stamps from 1996, making for a look more like the original Olympics. Click here for more hilariously sexy stamps.

Hungary for more, since they remain undefeated in water polo.
* * *
No doubt the most affectionate display of the day: Chile's Fernando Gonzalez and Nicolas Massu in doubles tennis. Sweet! Guapos, get a room!
We win!
* * *
3:30:68
A new world record in the mens' 4x100 swimming relay! Go USA! Neat!

Catch up with video files, photos and articles at Yahoo Sports.
Sun. Aug. 22

If I had to say just one word today, it would be:

Murofushi
Of course, I've got more words, it being such a busy Sunday. First, I was right about Justin Gatlin. Maybe I should start taking bets. Minor bling (earrings) softspoken and eloquent, and cuuuuute! Fastest man in the world? "The hardest thing is maintaining it," said Gatlin.

The Greek gods must have been flying around Olympic Stadium today, capriciously playing with the fate of the gorgeous talented array of women track stars. From hurdles to sprints, sudden victories and painful defeats (Gail Devers: ouch!). Mercury (or Apollo?) obviously gave Greek's Fani Halkia a boost, helping her get an Olympic record of 52:77 in the women's hurdles, and that's not even the finals!

Gotta give a nod to a few Bay area jocks: Patricia Miranda in wrestling, Pete Cipollone, the diminuitive hunk coxwain in the US men's 8 crew team that won gold, and Sam MaGee, who won silver in the women's rowing. Look for lots of local feature articles in the papers next week.

Beach volleyball on TV again? Okay, since there are Brazilians competing, it's un poco muy interess�. But why so much coverage? Okay, it's popular, but badminton is the second most popular sport played in the world. Don't see much coverage of that sport, this week or any time.
Romania's Marian Dragulescu, silver; Canada's Kyle Shewfelt, gold; from Canada; Bulgaria's Jordan Jovtchev, bronze - floor exercise finals. (Oh, to be in Kyle's place!)
Continued hoohah about the men's gymnastics all-around medal. Paul Hamm spoke to the media in a rather declarative tone (Well, as declarative as a squeaky-voiced 21-year-old can be): From MSNBC - "I personally feel, at this time, that I am the Olympic champion," Hamm said last night after failing to medal in two chances in the individual apparatus competition. "I would like this to die down and for people back in the U.S. to know that I am the champion, and there shouldn't be any dispute about that."
Sounds like the "winner" of a recent election. Pauly; a word of warning while in Athens. The old gods don't smile kindly on hubris.
There may be less controversy over the Rings medaling. Local fave Dimosthenis Tampakos won gold in rings, a sport that was part of the original Greek games centuries ago. But veteran Jordan Jovtchev just nailed it better. Still, always nice to see the Greeks cheer, and hear them sing their national anthem so beautifully. Let's just hope Dimo doesn't have to pass a drug test. Some Greek athletes and coaches seem to be leading in that category, too.
* * *
The Women's Marathon just keeps going and going... Terrific that it's retracing the course from Marathon to Olympic Stadium. Athenians lined the streets to cheer them on. With ten runners at the front, the Japanese world champ, Mizuki Noguchi won! Congrats!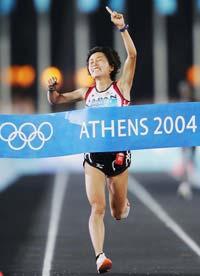 女子マラソンで金メダルに輝いた野口みずき(夕刊フジ)
One of few out olympians, tennis star Amelie Mauresmo was defeated and eliminated in women's singles tennis by Belgium's Justine Henin-Hardenne.
In the meantime, let's catch up with some hunks spotted at Opening Ceremonies who probably won't get shown on TV. The full list is here.
Several readers wanted to know about the very tall flag-holding hunk from Saudi Arabia: Hussein Al-Saba. Putting all politics aside, the long jumper is quite a looker.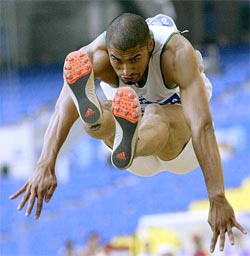 Another hunk was Shohrat Kurbanov of Turkmenistan. He wore a traditional outfit with a fluffy white fur hat. The boxer was defeated Sunday by Ahmed Ismail of Egypt, 44-22. More boxing info here.
Rowing finals gave the US its first victory in a long time. Best pic, though, is of Jakub Hanak of the Czech Republic, silver medalist in the Men's Quadruple Sculls. Mmm, lick it, dude!

Some people just can't get enough of Michael Phelps! Here are a few shots from his Vanity Fair photo shoot. Take it off, Mikey! Plus, another wet shot. And a wave to the fans. Dressing UP: beige, it's the new black!
Need more Phelps? Here.
Gossip: Phelps was set to be on the cover of Vanity Fair's August issue, until Reese Witherspoon's PR people raised a fuss. She'll be starring in Vanity Fair, the film based on Thackeray's novel.
Cyclists: a Lycra fetishist's dream.

Iraq men's soccer keeps going! and guess who wants to exploit their success even more? As if there aren't already enough security threats, the Pretzeldent may be visiting Athens, this according to alleged homosexual Matt Drudge, the rightwing's Hedda Hopper. (No, I'm not linking to his site. Ick.) [Update: Drudge was wrong, as he often is, the fraud. Secretary of State Colin Powell will attend Closing Ceremonies.]
So, in summary, the word for the day is:
ΑΘΗΝΑ 2004 - Αγώνες της 28ης Ολυμπιάδας
Ο επίσημος ιστότοπος των Ολυμπιακών Αγώνων